We provide quality thru-tubing services based on

experienced people and exceptional tools.
With industry leading tools and a crew of battle-tested craftsmen, our service quality is unmatched.
When companies talk about "their tools", they are often talking about the tools they rented or bought. We believe the best tools are the ones you design, manufacture and maintain yourself. We also recognize that even with the fastest car, you need a great driver to win the race. That's why we rely on people dedicated to service quality with a history of success under the toughest conditions.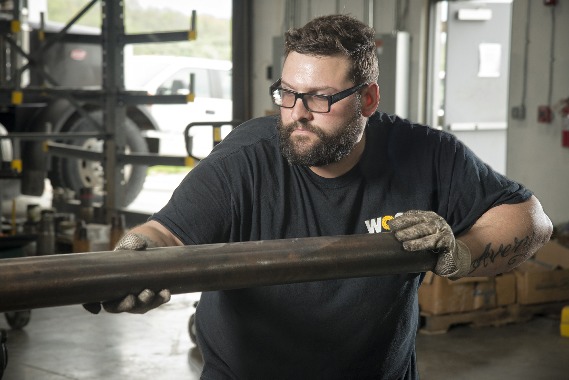 We've invested in developing top tier tools that perform consistently, reliably, and at the highest level. What's unique about our tool fleet?
Designed By Us
Inspired by you and designed by us. WOS employs a skilled Engineering group from various backgrounds contributing to a multi-faceted and impactful Research and development program.
Specialty Technology
The intuitive technologies produced by WOS, empowers our service group with the latest tools which allows them and ultimately our customers to succeed in the face of today's latest downhole challenges.
Consistent Reliability
Repeatable Performance is a founding principle in the development of WOS Technologies. We design, rigorously test and prove out all new advancements at our Research and Development facility, utilizing specialty testing equipment that we designed ourselves just for this purpose.
Seasoned Personnnel
Workover Solutions brings highly experienced personnel to both the jobsite and the office. We take the time to search for the right individual with the right experience to grow our team dynamics.
History of Success
WOS has a proven track record of success in taking on the most difficult challenges and providing genuine solutions to our clients. It is by these accomplishments that we have been able to partner with some of the biggest operators in the industry.
Continual Refinement
A good product and process improvement program are vital to maintaining our unique edge. The WOS team keeps a close eye on performance and reliability; constantly finding new ways to improve upon our existing capabilities.
CEO & President
Mark Miller
Mark Miller founded WOS in 2015 and currently serves as the CEO and President of Workover Solutions. A vital asset to multiple organizations in oil and gas industry since 2004, Mark has proven history of developing effective business strategies and pursuing cutting edge technologies. Mark began his career as a field engineer moved on to hold various management roles within SLB and CoilTOOLS. Mark holds a Bachelor's Degree in Mechanical Engineering from Memorial University in Newfoundland and is a registered professional engineer.
COO & Vice President
Drew Daley
Drew Daley joined the organization in 2016 and currently serves as the Chief Operating Officer and Vice President of WOS. Drew has been a key figure in previously held management and engineering positions within the last 14 years in the oil and gas industry including 8 years with the SLB team. Drew has an accomplished background in creating efficient business operating structures and excels in operational planning. He holds a Bachelor's Degree in Chemical and Biochemical Engineering from the University of Western Onterio.
CFO
Anthony Reano
Anthony Reano joined the organization in 2018 and currently holds the title of Chief Financial Officer of WOS. Anthony began is financial career in 2008 and has managed the finance departments of previous private equity-backed companies. Here he developed multiple departments, participated in PE ownership changes, M&A transactions and managed various aspects of support/operations departments. Anthony is a graduate of the University of Pittsburgh and holds a CMA certification.
Operations Manager
Jason Benavidez
Jason Benavidez joined the organization in 2018 and currently serves as the VP of Southern Operations. Jason has 13 years of management experience within various industries, primarily oil and gas and government organizations. Jason is also a proud Veteran of the US Army, having served in OIF & OEF campaigns in 2003 and 2005. Jason has an extensive background in organizational management as well as technology development and has held positions in management, operations and engineering departments.
Vice President of Marketing and Business Development
Jason Zollars
Jason Zollars been with WOS since 2020 and currently serves as the Vice President of Marketing and Business Development. Jason began his career in the oil and gas industry with Baker Hughes in 2010 focusing on the Appalachian Marcellus/Utica basin and Gas Storage market. He held multiple positions within the Completions Tools, Fishing and Wireline product lines working with various sized operators across the country. Jason holds a Bachelor's Degree in Communication Advertising and Public Relations from the University of Houston.
Wireline Operations Manager
John Foerstner
John Foerstner joined the organization in 2018 and currently serves as the Wireline Operations Manager.  He holds a Bachelor's Degree in Mechanical Engineering from Penn State.  John offers a wide variety of experience in the Wireline industry.  John started his career in 2006 as a field engineer and moved on to hold various management and sales roles within SLB.
QHSE Manager
Megan Morrison
Megan Morrison joined the organization in 2019 and currently serves as the QHSE Manager of Workover Solutions. A vital asset to multiple organizations in the oil and gas industry since 2011, Megan has been responsible for developing and implementing health and safety plans, enforcing policies, and evaluating practices and facilities to ensure compliance. Megan is a certified PEC instructor , 4-hour clear H2S instructor and MEDIC first aid instructor. She conducts training sessions, monitors operations for compliance, investigates accidents, and provides recommendations for continuous improvement. Megan attended Lake Erie College.
VP of Sales
Larry Blair
Prior to joining WOS Larry served as Operations Manager of a multi-location PE backed metal stamping company which served the closure markets. He later joined a manufacturing company that specialized in custom engineered heat transfer products which served the general aviation, military, heavy equipment, and over the road truck engine markets for 25 years. For the last 15 years he served as the company president. After selling the company Larry joined WOS in April of 2021 as VP of Sales. Larry graduated from The University of Dayton cum laude with degrees in finance and philosophy.